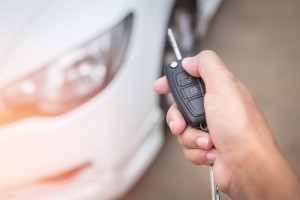 An auto Locksmith can help you if your transponder key is broken as they offer a reprogramming service.
Below is a list of how an auto locksmith can help you:
Repair and provide replacement key fob
Transponder key is broken / damaged
Provide a spare transponder key
Damaged/Broken Transponder chip inside the car key remote
Types of car keys that need programming
Since 1995, vehicles are legally required to have an immobiliser system. To work, this requires a transponder key with an electronic chip.
The car only starts if the ignition receives the correct code when the key is turned.
Common types of keys that will be needed to be reprogrammed include:
Car key with remote fob (remote keys)
Car key with integrated transponder chip
Flip type keys and key cards
Key Programming for various models of car and van keys
Most auto locksmiths will be able to cut, program, or reprogram and provide replacement keys for remote fobs and transponder keys for most vehicle manufacturers.
If your car key is damaged then a locksmith should be able to repair and provide a replacement set.
To find your local locksmith click here