Currently, no official regulation or licensing of locksmiths exists in the UK though this may well change in the future.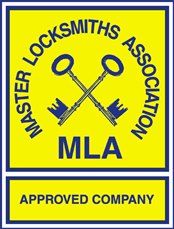 Consequently, the LA set up its own licensing scheme for its members, ensuring that members are vetted, inspected and receive examination-based training.
MLA members undergo strict vetting (including Criminal Record  (CRB) (from 2015 the Disclosure and Barring Service (DBS) and regular inspections , are able to provide advice based on knowledge and experience, recommend products that are fit for purpose as well as provide professional installation and maintenance services.
The MLA, a City & Guilds and HABC approved centre, also provides training for locksmiths from its purpose-built training facility based at the Daventry HQ.
The MLA also runs the bi-annual MLA Expo, an event that sees all the main players in the industry come together to display and demonstrate their latest products and provide useful seminars and training.
You can find your nearest MLA approved company at (insert new website address). Members listed in our directory are identified with the approved, official MLA logo.
Visit the MLA Website for more information at: http://www.locksmiths.co.uk/