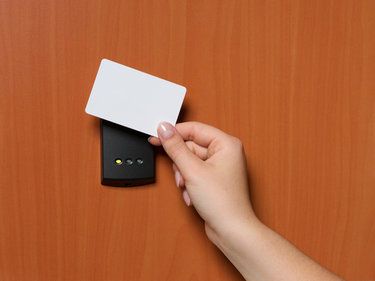 You cannot be too careful about who you let into your home.
A Digital Door Viewer with LCD display and motion sensor plus HD video and image recorders, is a useful device which will allow you to see who is at the door before you open it.
Easy to install, you can take it with you when you move house; you can even go further with video/audio intercoms.
Keyless entry with digital door locks
Most often used in buildings such as schools, offices and restricted areas, keyless digital door locks can also be used in the home or business premises.
They can generally be used with existing door lock fittings, can be used on internal and external doors, offer quick access (some have remote controls) and do away with the need to carry keys which can easily be lost or stolen.
The two main types of digital lock are:  electronic – which need either mains or battery power; and mechanically operated (no power) push button locks (see British Standard BS8607).
Electronic digital locks
Electronic keypad – you just a enter a code to gain access
Biometric – for example, fingerprint recognition
Smart Cards –now commonly used in hotels and commercial buildings
Digital door locks can be fitted on doors made from different materials, including UPVC doors, Timber, Composite, Aluminium and Glass.
To find your local locksmith click here