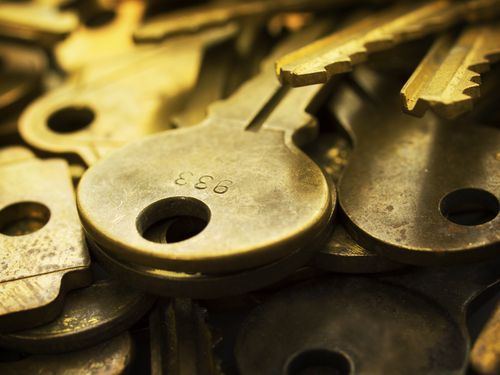 Keeping keys out of the wrong hands is a big task when running a business, coupled with ensuring they are organised.
With that in mind, below is a fast and simple 'Key Cabinet Buyer's Guide'.
Security Key Cabinets for Car and Vehicle Keys
Vehicle Rentals, Car Showrooms & Fleet Management
If your business revolves around a large numbers of car keys which change hands frequently, you'll want to choose a key cabinet with wider hooks and a deeper body. This will make it easier to store larger keys or bunches of keys, which can then be accessed quickly.
Look out for cabinets with a key deposit slot – that way, any number of people can deposit keys without having access to the rest of the keys inside and/or an electronic keypad locking.
Key Cabinets for Hotels, Offices and Estate Agents
Often, a key cabinet needs to serve as a key organiser as well as a security solution.
Hoteliers, estate agents and landlords are all key examples of people who could benefit from this kind of key cabinet.
Key cabinets are used pretty much anywhere; from showrooms to schools, hotels to hospitals or pubs to police stations.
It doesn't matter if you're a small business or a multi-national corporation with several worksites, a wide range of key cabinets are available designed to store anything from 20 to 2000 keys.
What types of key cabinets are available?
Key operated
Combination lock operated
Electronic keypad locking
Various colours and numbered key tags
Different sized hooks for different sized key
Holiday Homes/Apartments and Single Buildings
Not every business needs to look after a high number of keys.
If you run a holiday home or have another property at which you need to retain a key, don't simply stick it under a flower pot, it's the first place a burglar will look – this when you will need to use a key guard.
Key Safes are usually wall mounted and can store up to five keys.
Recommendations for choosing a key box/key guard
A key box or key guard can store up to five keys instead of using large key cabinet.  The safe key will keep your keys safe within a small, combination-guarded box or cache.
Key guards are typically installed on exterior property walls they allow landlords to let their holiday homes or apartments for short term leases without constantly having to be present.
The fitting of these key safes is important – they ideally need to be professionally fitted to a sturdy wall, and out of site.
Where possible look for 3rd party approval of your Key Safe such as Sold Secure, LPS or Secured by Design