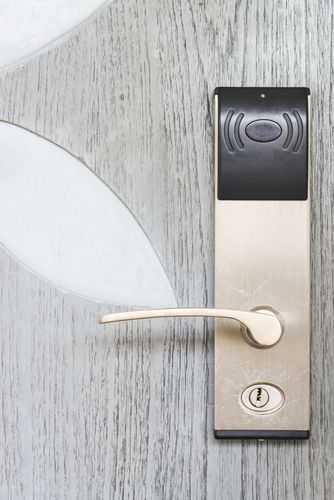 Digital door locks provide a low cost, easy to install security solution for buildings that require a reliable means of access control, but where the allocation of keys or cards is unpractical due to the volume of people entering and exiting the building.
Because of the variety of models available, digital door locks can offer an effective access control solution for anything from heavy duty applications such as airports to low security requirements such as office stationary cupboards.
Where are they used?
Typically, digital locks are used in public buildings such as hospitals, offices and schools, which can have a number of digital locks located throughout the building to secure different areas, or for domestic properties where numerous carers or nurses need independent access.
What are the benefits?
Because of the straightforwardness, of the lock, compared to 'high tech' electronic access control options, there is little that can go wrong.
Digital door locks are quick and easy to fit as they are completely self-contained, requiring no additional hardware and suitable as a small budget systems.
Some applications may only require security at particular times, in which case the digital door locks can be set to free passage throughout the day, and then be programmed for code-only entry outside of normal office hours to provide security for those remaining in the building.
Reprogramming
Digital door locks can be easily and quickly reprogrammed, meaning security can be instantly reinstated if compromised or if there is a changeover in staff.
The same applies for home security, as carers and nurses usually work shifts and if a member of staff leaves the organisation, the code can be changed instantly.
What types of digital door locks are available?
There are a variety of digital door lock models to choose from depending on the level of security required and a licensed locksmith will be able to advise on the most suitable product for a specific application.
Advantages
Perfect for domestic properties, as nurses/carers can access the property by inputting the code as normal
Also family members can use their own key and don't have to worry about changing codes
Can be installed on timber and PVCu doors
The most robust digital door locks will be capable of withstanding all but the most violent attacks and will provide many years' reliable service, even when installed on external doors and when subjected to heavy traffic or extreme use.
To find your local locksmith click here